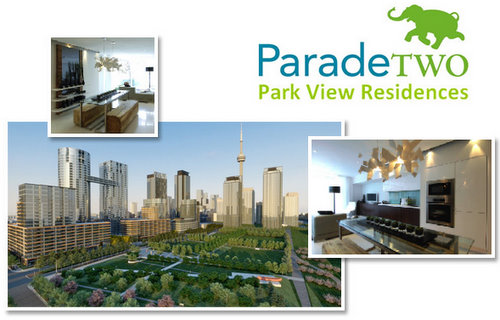 Units are now available for booking to VIP agents such as myself. The incentives for purchasers now is $10,000 off for 1 bedroom and 1+den units and $20,000 off for 2 bedroom units. Prices for VIP purchasers will start in the $500 per square foot range.
Elegant structures on a stage-like podium . Architectural excellence in an uncluttered sky. An urban landmark. A symbolic gateway to Canada's largest city. Directly facing the park, two towers, joined by two-storey bridge. One level containing premium residences, the other exclusive amenity space.
Parade at Concord CityPlace- a modern masterpiece called home.
Come play in the park. Eight acres. A brilliant vision- a living landscape celebrating the history and geography of Canada. The park will be home to the Terry Fox Miracle Mile -a mile long running  path and will also feature four unique quadrants dedicated to specific activities for all ages. A space of inspiration, activity, and relaxation, this park will be the living heart of Concord CityPlace.
Click Here To View Floor Plans